Preventing Frozen Pipes This Winter
Posted on 10 January 2023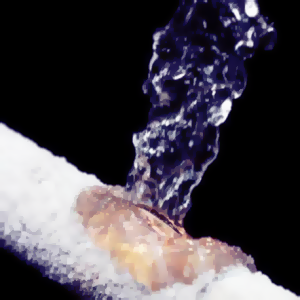 Winter is here, and we just recently experienced a cyclone bomb that mostly affected the US with cold temps, lots of snow and wind. Are your home's pipes able to withstand any sudden changes or lower than usual temperatures? As plumbers, we are particularly focused on the potential problems that could occur to your pipes during the coldest months of the year.
Frozen indoor pipes
The simplest method of preventing your indoor pipes from freezing is to make sure you maintain an indoor temperature of at least 13 degrees Celsius during the winter, including when you are away from home. That is a bare minimum temperature—we'd generally recommend going higher than that, and if you're going to be home, you'll want to keep it warmer to stay comfortable anyway. If you notice a sudden drop in water pressure, it could be a sign of freezing pipes—keep an eye on your plumbing fixtures and pipes and make sure they don't show any signs of freezing, especially during extreme cold.
Here are a few tips to prevent frozen pipes from becoming an issue in your home.
Cabinet doors: It can be helpful to leave cabinet doors open if your kitchen or bathroom plumbing is located along an exterior wall. This allows warm air to circulate through and keeps the pipes from freezing. Just make sure you take the proper precautions to childproof the cabinets if you have young children.
Keep your home warm: You should always have your home set to AT LEAST 13 degrees Celsius (55 degrees Fahrenheit), and ideally more than that, even if you're going to be away from home for an extended period of time.
Add insulation: This is a great long-term solution to prevent frozen pipes. Add some more insulation into your attics, basements or crawl spaces, or even insulate individual pipes. If you have an attached garage, insulate that as well.
Garage doors: If you have an attached garage, keep that garage door closed to prevent more cold air than necessary from getting into the house. This is especially important if you have any water supply lines that run through the garage.
Allow a slow drip: In an emergency situation running water through the pipe helps prevent freezing, even if it's just a small drip or trickle.
What to do if you notice frozen pipes
What happens if you have frozen pipes in your home? The good news is the problem can be fixed, so long as you take action immediately after discovering the issue. The longer you let your pipes sit frozen, the more likely they will burst.
If the pipe broke, turn off the water at your home's main shutoff valve and get a plumber over to your home immediately. However, if you still have water running and no burst pipes, you can correct the issue yourself using some of the following steps:
Allow water to run: Again, running water helps prevent freezing, and with the water being warmer than ice, it flowing through the pipe will help melt the ice where it's built up.
Heat the frozen section: If you know exactly where the pipe has frozen, you can heat the section of pipe by wrapping an electric heating pad around it, blowing it with an electric hair dryer or using a portable space heater. You could also wrap the pipe in towels soaked with hot water. Never use a blowtorch, propane heater or device with an open flame, as this could result in greater damage or cause a fire. You should keep applying the heat until you have achieved full water pressure.
Water heater inefficiency
Keep the area around the water heater as warm as possible. This is especially going to be an issue for homes with unheated basements or if the water heater is located in the garage. It can help to add insulation or caulk to any areas where cold air could get in, and to close off crawl spaces where appropriate.
Damage from frozen or bursting pipes can be significant, so it's best to be prepared. For more tips to help you prevent some major plumbing issues this winter, contact one of the professionals at PipeMasters today: info@pipemasters.ca or (289) 404-9063. PipeMasters is part of Oakridge Plumbing Ontario Ltd. and serves the East GTA, Durham Region, North to Lindsay & Peterborough, out to Cobourg and all points in between. All Rights Reserved.