How to Make Sure Your Sump Pump is Working Properly
Posted on 14 September 2021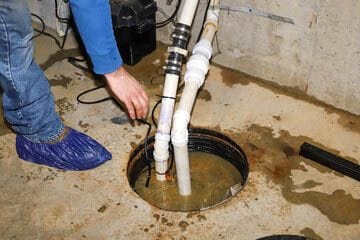 Sump pumps are your first line of defense against a flood or general dampness in your basement. When heavy rains occur, sump pumps get rid of excess water from around your foundation, pumping it out of the house to an area where it can safely flow away and not cause any flooding or water damage.
It's important to test your sump pump on a regular basis if you have one. You'll want to be sure the pump is in reliable, operational condition when you really need it. Checks to perform include:
Locate and inspect the exit pipe: Find the exit pipe where the water drains out from your home. Once you've located it, take a careful look to make sure it's not clogged with any debris. In addition, make sure the pipe directs the water away from your foundation so you don't have to worry about the water you pump out flowing back into the property.
Remove debris: If you do find any debris inside the exit pipe, you'll need to clean it out. If there is debris inside the pipe, the pump could clog and then not work. In addition, check the pump itself for any signs of debris. The pump will be located in your basement or crawlspace, close to one of the foundational walls.
Electrical elements: Follow the two electrical cords from the sump pump. The pump cord should plug into the back of the float cord plug. Both cables should be unplugged, then just plug in the pump cord into the outlet. You should hear a humming sound as you turn on the pump—when you hear that, it's a sign that the pump is working properly. Then reconnect the two cords (first the float cord, then the pump cord into the float plug).
Single cord pumps: Some pumps do not have two wires. In this circumstance, you should pour about 20 liters of water slowly into the sump pit, to make the float rise. The pump should kick on if it's working properly. The water should then begin to pump out, and the pump should shut off when all the water is gone. If you cannot pour water into the sump pit, you should lift up the float manually and check that the pump turns on when this happens. You should avoid letting the pump run for more than just a few seconds, though, as this could potentially damage the motor if you let it run for too long.
If you need professional assistance in testing, repairing or replacing a sump pump, contact our team at PipeMasters today, and we'll be happy to be of assistance. Our licensed professionals can help: info@pipemasters.ca or (289) 404-9063.
PipeMasters is part of Oakridge Plumbing Ontario Ltd. and serves the East GTA, Durham Region, North to Lindsay & Peterborough, out to Cobourg and all points in between. All Rights Reserved.