How To Clean Your Sump Pump
Posted on 9 November 2021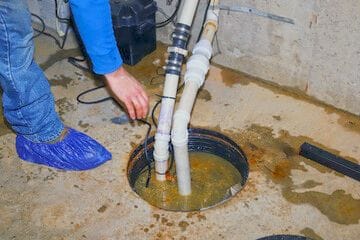 Something not quite right with your sump pump? When was the last time you checked it? Regular checking and cleaning is one of your most important defensive tools against flooding in your basement, so it's ready when you need it most. Most sump pumps should be checked and cleaned at least once a year – usually best just before spring thaw. If you're not comfortable cleaning it yourself, you can always have an expert do it for you. With proper cleaning and maintenance, the average sump pumps lasts about 10 years.
Always put safety first before checking or cleaning your sump pump. Unplug the pump or turn off the breaker at minimum. Prep your cleaning supplies and then follow these steps:
After checking to make sure your sump pump is off, disconnect the pump from the discharge pipe.
Wrap your pump in plastic to prevent drips and carry it outside. Using your garden hose, rinse off any dirt or sludge from the surface of the pump. Let dry.
A plastic scraper or putty knife may be necessary to clean out the sump pit and remove caked-on debris.
Drain any standing water from your sump pit using a shop vac.
If you have a check valve that can be disassembled, carefully disassemble and allow any water to drain out of your check valve first, then remove it. Rinse the valve thoroughly with water, then dry and reassemble it.
Look for possible damage or cracked components.
Once thoroughly dry, reattach your pump to the discharge pipe.
Plug your unit back in and test. You're all done!
Call a professional if you're unsure your sump pump is functioning properly or if you need a new unit installed.
For more information about common sump pump problems and what to do about them, contact us today at PipeMasters. Our licensed professionals can help with any of these or other plumbing issues you have: info@pipemasters.ca or (289) 404-9063. PipeMasters is part of Oakridge Plumbing Ontario Ltd. and serves the East GTA, Durham Region, North to Lindsay & Peterborough, out to Cobourg and all points in between. All Rights Reserved.